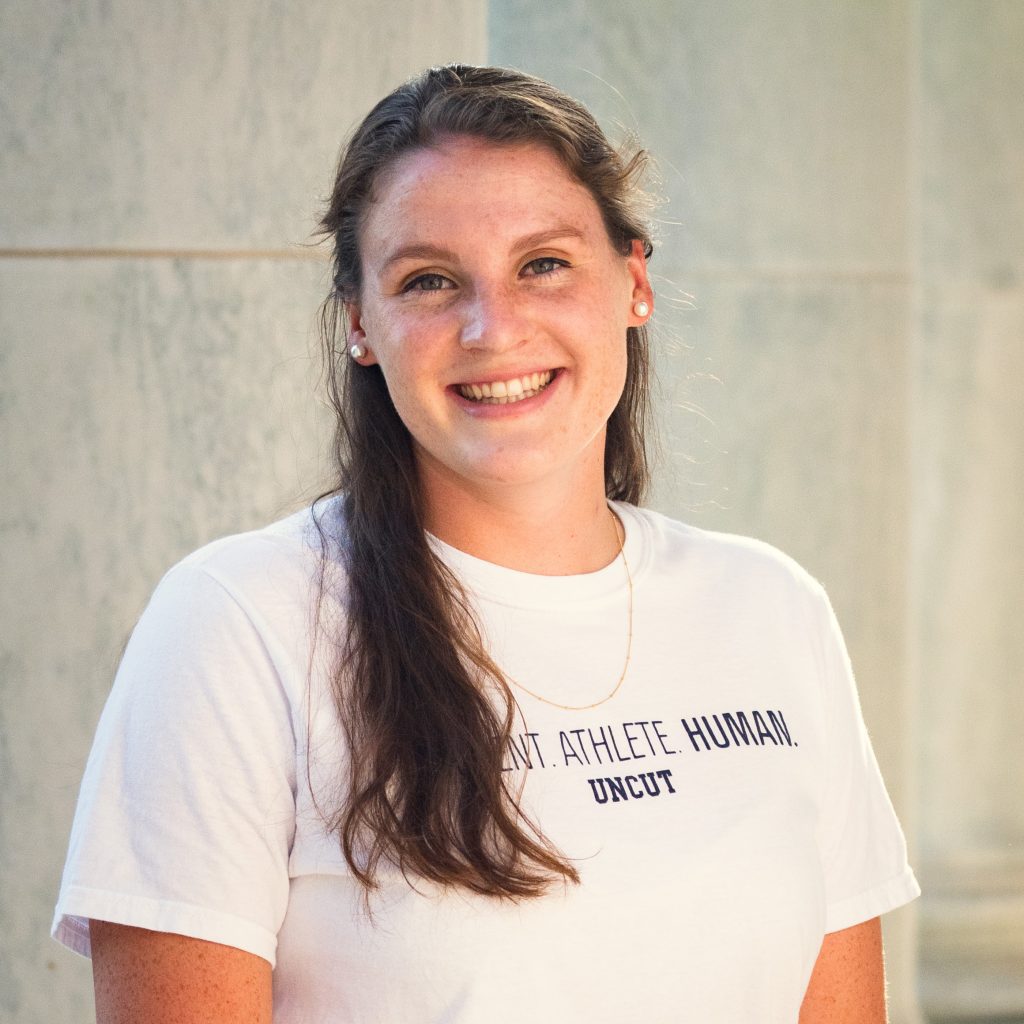 Ellie Winslow (class of 2021) is a Public Policy Studies major, with a double minor in Spanish and Political Science. She is originally from Columbus, Ohio. At Duke, Ellie is a captain of the Varsity Swimming & Diving team and represents the Duke Athletic department in the Duke and Atlantic Coast Conference Student-Athlete Advisory Committees. This year, she is involved in a Bass Connections project called "NC Early Childhood Action Plan," where she is co-developing a study to investigate food insecurity in North Carolina and initiating policy strategies that could be implemented by the state with members of the Duke-Margolis Center for Health Policy. Ellie plans to pursue a law degree upon completion of undergraduate studies.
Honors Thesis:
Gender Pay Inequality in Professional Sports: How Policy Shapes a Consistent Divide
Faculty Advisor: Penny J. Fleming
Abstract: This research analyzes whether there is a role for policy to ensure gender pay equality in professional American sports. In 1972, Title IX of the Education Amendments prohibited discrimination on the basis of sex in educational institutions, which granted equal opportunities for women and men to compete in college athletics. A policy like this does not exist past college and professional female athletes continue to be paid less than professional male athletes. This discrepancy is largely due to a history of gender bias and female exclusion from athletic participation. Professional basketball, soccer, and tennis present a gradient of what gender pay inequality is like in American sports. The NBA and WNBA are examples of highly unequal professional sports leagues in terms of viewership, endorsement deals, and in athlete salaries. The U.S. Women's National Soccer Team has won the last two World Cup Championships, but receives marginally lower earnings; and professional tennis has nearly achieved gender pay equality by providing equal payout at Grand Slam events. To understand where discrepancies lie in the policies that govern the sports leagues, I completed a comparative policy analysis, assessed the media coverage of one major event for each gender across the three sports, and investigated the public conversation surrounding gender parity in professional sports. The results indicate that an overarching policy to eliminate or lessen the gender pay divide in professional sports is not feasible. The market for women versus men's sports is stark, but individual organizations can make strides toward equality in their own ways.